TRAINING WITH JASMINE LECHNER-CYPHERT
Seal Rock Stables in Seal Rock, Oregon is home to Jasmine Lechner-Cyphert and Pacific Coast Horsemanship. Together with her husband Brady and two daughters Ellie and Gracie, Jasmine has built a welcoming and challenging environment for both horse and rider. Horses have been a family passion for Jasmine since she was a child learning from her mother Roxanne Lechner who bred and trained horses in Seal Rock to watching her own children who at the ages of 6 and 8 have already won local year-end awards in gaming, and western.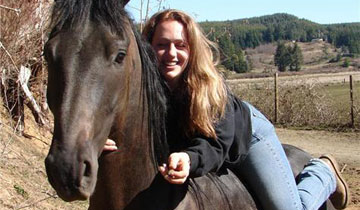 Jasmine's training style has been developed over many years as she pursued a wide variety of riding disciplines. While competing as a youth in 4-H, gaming and later reining jumping and dressage, she took every opportunity available to build her horsemanship skills. Many days rushing home from school to run back out to lessons. She has competed successfully in western pleasure, reining, Hunt-seat, saddle seat, driving, trail, as well as three day eventing. Lynn Fulps, Mark Rashid, Frank White, Mary Ann Simmons, Peggy Cummings and Craig Cameron are some of the great instructors she has had the opportunity to learn from during her career. She has been a professional horse trainer for over 17 years starting at just 14 years of age training horses to finance her horse dreams. She has experience starting colts, training horses for multiple disciplines, helping problem horses, competing and hosting a variety of clinics.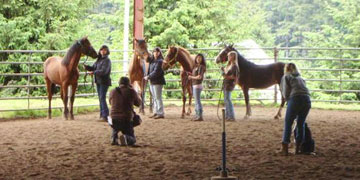 In recent years, she has become interested in training mustangs and was the 2010 winner of the NW Extreme Mustang Makeover. She participated in the first Project Cowboy competition in Fort Worth, Texas on Weston her mustang from the 2009 Mustang Makeover. No matter what the breed of horse or the type of competition a rider chooses "Thirty days to competition levels" is not just a promise, it is a track record.
Jasmine's experience has taught her that the ability to maintain clear and consistent communication with one's horse is the underlying thread necessary to success no matter what horse discipline you pursue. Whether training horses or riders, she works to find a way to ensure that the ride is safe, and fun while providing honest and clear instruction. Jasmine works to develop a true partnership and understanding between horse and rider. Always listening to the horse, helping horse and rider figure out what was being asked, and learn to love what they are being asked to do. Teaching them to try, guess and try again until it becomes clear.
Whether you want to learn the basics, hit the trails safely, excel to the next level, or keep up with the pros - Pacific Coast Horsemanship works to help you get there.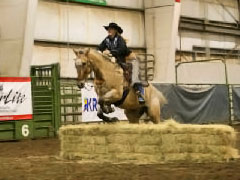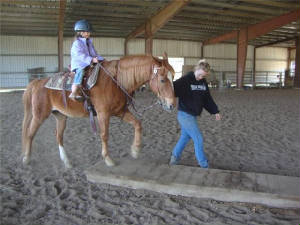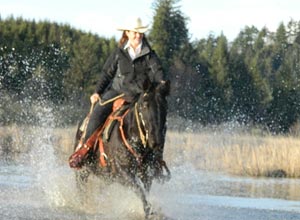 "Horses come in all shapes and sizes. Some ridden, or shown well often take prizes. To Jasmine horses are always new, no matter what color- - no matter what hue.
Horses may be Arab, quarter horse, or paso - behaving well or just so so. Under Jasmine's guiding hand and skill, they soon will be performing at the riders will."
- Zorabelle Rowley



"Jasmine gives a new definition to the term 'Natural Horsemanship'. She creates a true partnership based upon love, understanding and flexibilty. Jasmine teaches us all - horses and humans alike."
-Lark Fisher