FROM WILD TO RIDING CHAMP IN ONLY 3 MONTHS
Before an appreciative standing-room only crowd, Princess Buttercup, a five-year-old sorrel mare, gave a royal performance during the March 21 finals of the Extreme Mustang Makeover in Albany, Oregon.
Trained by Seal Rock Stables' own Jasmine Lechner, Princess Buttercup was nonplussed by the roar of the crowd as she maneuvered through the course designed by Lechner to show off all her skills. In a freestyle routine that required competitors to show how well their horses were working with only 90 days training, Princess Buttercup proved she was a quick study, picking up leads when asked, performing smoothly in the bridle and taking barrel jumps with little hesitation.
Scoring a total of 78.5 out of possible 90, Princess Buttercup and Lechner bested a field of 24 riders to take home the championship Gist buckle and $2,500. Princess Buttercup was placed for adoption for $950.
Extreme Mustang Makeover is the ultimate 90-day wild mustang training competition, providing entertainment and hundreds of gentled horses to the public every year. From wild to riding champion in only three months - now that's horsemanship!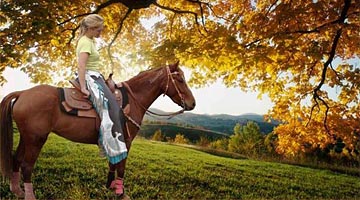 © 2010 Kim Wales, Broken Rein Publishing
A TRADITION OF TRAINING SUCCESS
Jasmine's spectacular success with Princess Buttercup is not luck, and certainly not a fluke. It is a result of concentrated effort and decades of riding and training experience to back it up. Last year was Jasmine's first attempt at the Extreme Mustang Makeover and she placed 7th despite her admitted unfamiliarity with the contest's rules. Her entry was powerful Weston, a fiercely feral steed who is now a friendly, yet dignified mount, as you can see for yourself...